In addition to enhanced profiling, Bio2Business is pleased to present further advertising opportunities via the CRO Tracker Ads platform. To find out more about this, please download the CRO Tracker Ads Media pack.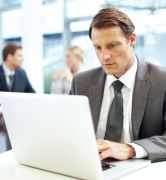 • A CRO Tracker Ad consists of 4 components: Your Company Name; 75 characters of Free Text; A Logo of your choice; A Link to Any URL
• Once you have created, paid for and posted your advert (all done online in just a few simple steps) your advert will be rotated alongside other participating advertisers throughout the Bio2Business suite of websites (see our Media Pack for further details).
• You will be charged at a rate of £2.50 per day for each advert. You will need a valid debit or credit card to pay for the advert. This card will be debited on a daily basis for the duration of your campaign (which you will specify). The advertiser can cancel their advert at any time without further charges.
You need to be a registered user to post ads. Registration is free and only needs a valid, relevant e-mail address. Click here to register.
Important: By placing an advert on CRO Tracker Ads platform you acknowledge that your advert will be rotated through the available advertising slots at random (but with equal weighting) along with other advertisers posting adverts on the CRO Tracker platform. You are not purchasing a fixed advertising slot. The number of adverts being rotated on the CRO Tracker Ads platform may exceed the number of advertising slots available at any 1 time.